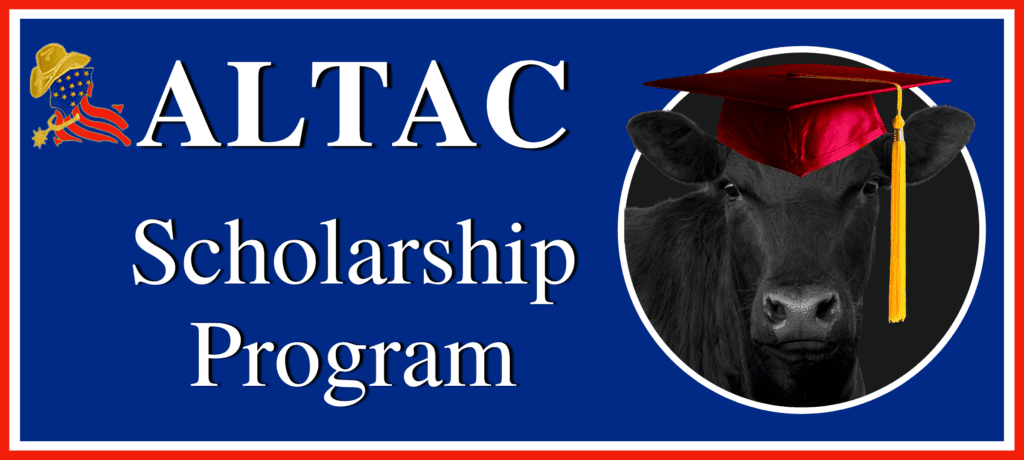 Ark-La-Tex Agricultural Council Scholarship Program
In leu of the 2020 ALTAC annual meeting, many of our members donated to the Ark-La-Tex Agricultural Council Scholarship fund. We would like to recognize the following members for their donation:
Mrs. Zelda Loftus
Deborah Dees, CPA
Carol Adams
Jack & Beverly Barron
Louisiana Land Bank
Barbara Serio
Rosy Bromell & Hilda Williams
Mickey Walker
TC & Jenny Hall
Dr. Eddie Moore, DVM
John & Brenda Parsons
Michelle & Sara Menard
David & Donna Ogletree
Lee & Jena Coltharp
Larry Nash
Gene & Kay Stough
Steve & Carol Ashley
Allen & Catherine Hanna
Brandon & Heather Richter
Liz Swaine
Lola Boone
James, Angie & Stacey Baker
Many thanks to each and every one of our donors for their generosity & ongoing support!
---
Are You Interested in Applying for an ALTAC Scholarship?
Applications and supporting materials are due no later than April 17, 2023
Student Criteria
The applicant must be a graduating high school senior with an overall scholastic average of 3.0.
The scholarship is renewable for four years, provided that the recipient maintains a 3.0 or better grade point average in college.
The winner is responsible for presenting a copy of his or her college grades after each quarter/semester to the Community Foundation at 401 Edwards St #105, Shreveport, LA 71101.
The scholarship will be awarded in the form of a check made payable to the college to be attended for one-half of the total amount of the scholarship each semester (or one-third of the amount each quarter).
The scholarship amount is to be $1,000 annually, subject to revision by the Scholarship Selection Committee.
A one-time grant may be given at the discretion of the Selection Committee instead of the above-mentioned scholarship opportunity.
Applicant must be a Louisiana resident, an entering freshman, and an active member of a Louisiana 4-H Club or FFA Chapter.
The recipient must be enrolling in a Louisiana college or university. It is the student's responsibility to notify the Ark-La-Tex Agricultural Council and the Community Foundation of any changes in university enrollment, student contact information, or early graduation. Students must be enrolled full-time.
Applicants must submit a completed application form along with the following to the Scholarship Selection Committee by April 17, 2023:

High school transcript
ACT scores
Past 3 years of their 4-H Club or FFA record book with supporting materials.
At least two letters of recommendation.
Pictures of any Louisiana State Livestock Shows you attended.

The selections will be made by the end of April.
Apply online or download the application and submit it along with documentation to:
ALTAC Scholarship Committee
P.O. Box 53226
Shreveport, La. 71135
Your 4-H books, portfolio & supporting materials will be returned to you after the scholarship selection has been made.
Recipients of this scholarship are encouraged to attend the Ark-La-Tex Ag Council Annual Meeting, which is usually held on the third Thursday in August.
These guidelines may be modified at any time.
Submission of application and 4-H record book/FFA portfolio does not guarantee a scholarship or grant opportunity.
Previous ALTAC Scholarship & Grant Recipients
*New recipient
**ALTAC Jack Dilliard Grant
***Andy & Zelda Loftus Scholarship
2022-2023
ALTAC Scholarship
Karen Lewis, Rapides Parish*
Sophia Parkman, Lincoln Parish*
Morgan Gree, Sabine Parish
Maeleigh Conner, Cameron Parish
Cooper Johnson, Natchitoches Parish***
Carmen Rae Garcia, Bossier Parish
Abby Lobue, Calcasieu Parish
Kyleigh Bass, Ouachita Parish
Amanda Simmons, Sabine Parish
Ethan Coker, Claiborne Parish
Madison Pleasant, Natchitoches Parish
Caroline Dupree, Bossier Parish
ALTAC Grant
Sadie Lear, St. James Parish
Joseph Lingo, West Carroll Parish
Seth manual, St. Landry Parish
Adam Pousson, Arcadia Parish
Alexis Walker, West Ouachita Parish
2021-2022
ALTAC Scholarship
Cooper Johnson, Natchitoches Parish***
Maeleigh Conner, Cameron Parish
Luke Seguin, Livingston Parish
Amanda Simmons, Sabine Parish
Ethan Coker, Claiborne Parish
Madison Pleasant, Natchitoches Parish
Caroline Dupree, Bossier Parish
Carmen Rae Garcia, Bossier Parish*
Abby Lobue, Calcasieu Parish
Kyleigh Bass, Ouachita Parish
ALTAC Grant
Karsyn Bass, Ouachita Parish
Kylee Anne Triche, Lafourche Parish
Shelby Brown, Caddo Parish
Josie Marie Camp, Winn Parish**
---
2020-2021
ALTAC Scholarship
Abby Lobue, Calcasieu Parish*
Kyleigh Bass, Ouachita Parish*
Lacey Dodson, Bossier Parish
Maeleigh Conner, Cameron Parish
Luke Seguin, Livingston Parish
Amanda Simmons, Sabine Parish
Ethan Coker, Claiborne Parish
Madison Pleasant, Natchitoches Parish
Caroline Dupree, Bossier Parish
ALTAC Grant
Caitlin McBride, Ouachita Parish
Caroline Doise, Jefferson Davis Parish
Jennifer Langston, Bossier Parish
Keely Kennedy, Claiborne Parish
Austin Grooms, Bossier Parish
Daisy Verdin, Union Parish
Garrett Manuel, St. Landry Parish
Tyler Hayes, Calcasieu Parish
2019-2020
ALTAC Scholarship
Leah Brumley, Desoto Parish*
Ethan Coker, Claiborne Parish*
Caroline Dupree, Bossier Parish*
Madison Pleasant, Natchitoches Parish*
Amanda Simmons, Sabine Parish*
Stacey Baker, Caddo Parish
Maeleigh Beth Conner, Cameron Parish
Lacey Dodson, Bossier Parish
Jenna Grace Guidry, Iberia Parish
Colby Lingo, West Carroll Parish
Daryn Scriber, Claiborne Parish
Luke Seguin, Livingston Parish
ALTAC Grant
Kerrington Bass, Ouachita Parish
Weston Lee Cobb, St. Helena Parish
Hunter Lepretre, Vermilion Parish
Paige Zeringue, Ascension Parish
---
2018-2019
ALTAC Scholarship
LeaStacey Baker, Caddo Parish*
Daryn Scriber, Claiborne Parish*
Maeleigh Beth Conner, Cameron Parish*
Luke Seguin, Livingston Parish*
Peyton Arthur, Vernon Parish
Justin Lingo, West Carroll Parish
Lacey Dodson, Bossier Parish
Jenna Grace Guidry, Iberia Parish
ALTAC Grant
Megan Mincey, Livingston Parish
John J. Carbalan, Jefferson Davis Parish
Chase Echols, Lincoln Parish
Austin McMillon, Caddo Parish
Alexis Kennedy, Claiborne Parish
2017-2018
ALTAC Scholarship
Peyton Arthur, Vernon Parish
Peter Ashley, Desoto Parish
Lacey Dodson, Bossier Parish
Jenna Grace Guidry, Iberia Parish
Allie Doise, Jefferson Parish
Colby Lingo, West Carroll Parish
Aubrey Simmons, Lincoln Parish
Megan Simon, Lafayette Parish
Miranda Weddleton, Caddo Parish
ALTAC Grant
Jacques Fontenot, Evangeline Parish
Erica Grant, Red River Parish
Carmen Latoilais, Red River Parish
Ashlee Sebren, West Ouachita
Sarah Elizabeth Steadman, Rapides Parish
---